Award Winning Adventurer and Filmmaker- Justine Curgenven of Cackle TV Productions

Justine is an award winning adventure filmmaker and expedition sea kayaker,  who's programs have aired on the National Geographic Channel, Channel 4, Channel 5 and the BBC. She runs Cackle TV and created the highly acclaimed "This is the Sea" series of sea kayaking DVDs. Her films have won over a dozen prestigious prizes including best adventure film at Banff & Kendal Mountain Film Festivals. She regularly gives slide presentations and writes magazine articles, nationally and internationally. Justine was previously a competitive sportswoman, winning 9 Blues at Cambridge university and representing England at hockey at Universities level. At Cambridge University, where she graduated with a science degree, she was also president of "The Ospreys", the Cambridge University women's sporting association. Once Justine left university she worked as a Television journalist and then a multi-skilled program maker, learning the skills necessary to tell a story using moving pictures. She also discovered the world of nature and adventure and put down her hockey stick in favor of a kayak paddle, a mountain bike and hiking shoes! She went on many adventures including biking across the Pyrenees mountains from coast to coast, trekking in the Himalaya & climbing the almost 7,000 meter Mount Aconcagua, the highest mountain in the Americas (which she filmed for a National Geographic series). In 2002, she competed for England in the surf kayak world championships winning several of her heats and helping England to 4th position.
More recently, Justine has focused on challenging sea kayaking journeys and was named as one of the UK's top living explorers & invited to meet the Queen at a Buckingham Palace reception for adventurers.  Her sea kayaking expeditions include;
The first all-female circumnavigation of Tasmania –  900-miles in 42 days.
A solo trip around Iceland's West Fjords
A 400mile journey up the Pacific coast of Kamchatka with Hadas Feldman and a novice Russian sea kayaker.
A 500mile circumnavigation of the Queen Charlotte Islands with Shawna Franklin & Leon Somme
A kayak crossing of the treacherous Bass Strait, between mainland Australia and Tasmania
The first kayak circumnavigation of wales ( by sea, river and canal) with Fiona Whitehead
A 2400km circumnavigation of the South island of New Zealand taking 67 days, with Barry Shaw
A 500 mile circumnavigation of Sardinia with Barry Shaw
3 crossings of the Irish Sea of between 45-57 nautical miles – from Anglesey to the Isle of Man, from the Llyn Peninsula to Wicklow in Ireland and from Holyhead to Dublin. All the crossings were done in strong following ( or side) winds. The Llyn- Wicklow Crossing was on New Years Day, one of the shortest ( and coldest) days of the year.
A crossing from mainland Scotland to Shetland, via the Orkney islands and Fair Isle
Kayaking 120 miles from London to France in 50 hours & kayaking from Russia to Japan in a series of open water crossings – both with Sarah Outen.
With Barry Shaw, becoming the first people to kayak 1000 miles around 'Isla Grande', Tierra Del Fuego – a remote windswept Patagonian island.
Kayaking from England to France, & from Russia to Japan with Sarah Outen. See the film on 'This is the Sea 5′
Circumnavigation of Ireland in 2013 with Barry Shaw & Roger Chandler
Kayaking 2500 km along the Aleutian island chain and Alaskan peninsula with Sarah Outen in 2014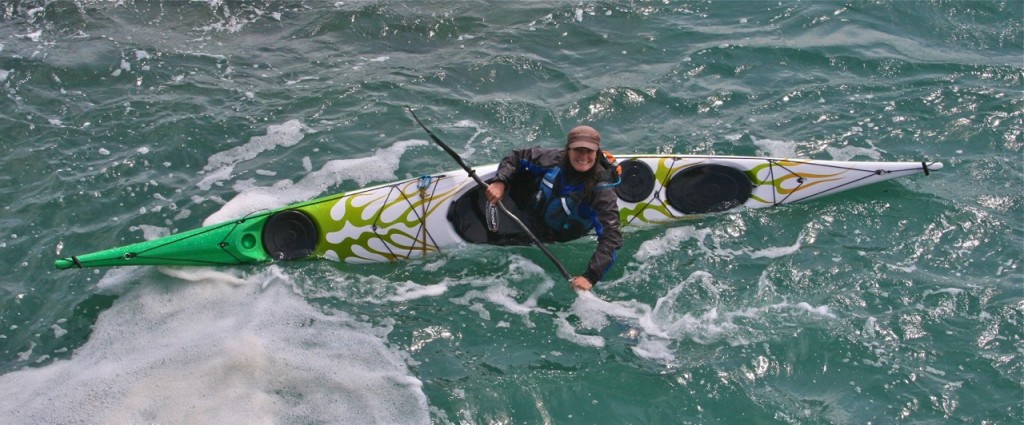 With help from technical experts (long before GoPro cameras), Justine developed a unique waterproof camera system & suction mount to film seakayaking from her kayak, producing never-before-seen shots of bulging eyes, surprised faces and composure under pressure! Her films are known for their 'in your face' action shots which make you feel like you are in the kayak with expert paddlers. Always looking for a new challenge and with an 'anything is possible' attitude, in 2009 Justine took up open boating and made the first modern canoeing DVD showcasing the different aspects of the sport. 'This is Canoeing" features many top names, beautiful wilderness journeys and exciting whitewater. In the process, she paddled 370km down Canada's remote Mountain river, crossed Rannoch Moor in Scotland, paddled down Algonquins Petawawa river & learnt what it is like to pin a canoe on a challenging rapid!
In 2012, Justine teamed up with expert rollers, Cheri Perry & Turner Wilson, to make a highly acclaimed instructional rolling DVD, "This is the Roll".
Location of Justine's  presentation is Peninsula College Maier Performance Hall-  Saturday April 23rd at 7:00 PM
Ticket fee is only $10.00, click here to get yours!
Peninsula College's address is: 1502 East Lauridsen Blvd. Port Angeles, WA 98362
Directions from Hollywood Beach and the Red Lion Hotel- South on Lincoln Street, turn left onto Lauridsen Blvd., follow to Peninsula College.