Two nights of films starting with the Friday night pre-registration party at Barhop Brewery, followed by Saturday evening's Feature Presenter, Justine Curgenven of Cackle TV Productions.
– Friday Night's Films and Party…. local Olympic Peninsula films, beer, pizza, and cameraderie!  Come to Barhop to hang out with your paddling friends, drink some beer, eat Italian style pizza and meet new paddling buddies.  This event is free with food and beverage available for purchase.  Friday night's films are speckled with our love for the Olympic Peninsula plus a couple of other worldly treats! Friday's night's focus will visually remind us why the peninsula is such a special place.  From paddling, biking and skiing, mountains, oceans, forests and trails, several of these films, produced locally by award winning pro filmmakers, including producer John Gussman.  And just for fun, we had to throw in a couple of worldly inspirations including The Coast and Expedition Q, A Crossing of Baffin Island both produced by NRS films.
Where and When: Barhop Brewery, 5 – 7 pm.
A pre-registration table will be set up from 5- 7 pm to get your registration taken care of the night before courses begin; we highly recommend taking advantage of pre-registration so you are not rushed for your classes on Saturday.  Please note, because a release form is required you must register in person.
–  Saturday Evening Main Event– Presentation by Award winning filmmaker and adventurer Justine Curgenven of Cackle TV Productions- Peninsula College Maier Performance Hall, 7:00 PM
2016 Keynote Speaker
Justine Curgenven
Justine is an award winning adventure filmmaker, expedition seakayaker and creator of the most exciting seakayaking movies ever. She uses a specially developed camera-mount to capture sea kayaking in the most exciting (and scary) conditions. Her entertaining DVDs, "This is the Sea 1, 2, 3 and 4″ have inspired thousands of people to take to the water. Justine has been on challenging expeditions around the globe, including circumnavigating the south island of New Zealand, Tasmania and the Queen Charlotte islands, a solo trip around Iceland's West Fjords, a crossing of the Bass Strait and a wilderness journey in Kamchatka with a novice Russian kayaker. She represented England in the world surf kayak championships and loves surfing her seakayak in the tidal races near her home in Wales. Her adventure documentaries have been shown on the BBC and National Geographic Channel and won her a Best Adventure Film award at the prestigious Banff Mountain Film Festival.
She regularly gives slide presentations and writes magazine articles, nationally and internationally. Justine was previously a competitive sportswoman, winning 9 Blues at Cambridge university and representing England at hockey at Universities level. At Cambridge University, where she graduated with a science degree, she was also president of "The Ospreys", the Cambridge University women's sporting association. Once Justine left university she worked as a Television journalist and then a multi-skilled program maker, learning the skills necessary to tell a story using moving pictures. She also discovered the world of nature and adventure and put down her hockey stick in favor of a kayak paddle, a mountain bike and hiking shoes! She went on many adventures including biking across the Pyrenees mountains from coast to coast, trekking in the Himalaya & climbing the almost 7,000 meter Mount Aconcagua, the highest mountain in the Americas (which she filmed for a National Geographic series). In 2002, she competed for England in the surf kayak world championships winning several of her heats and helping England to 4th position.
More recently, Justine has focussed on challenging seakayaking journeys and was named as one of the UK's top living explorers & invited to meet the Queen at a Buckingham Palace reception for adventurers.  Her sea kayaking expeditions include;
The first all-female circumnavigation of Tasmania –  900-miles in 42 days.
A solo trip around Iceland's West Fjords
A 400mile journey up the Pacific coast of Kamchatka with Hadas Feldman and a novice Russian sea kayaker.
A 500mile circumnavigation of the Queen Charlotte Islands with Shawna Franklin & Leon Somme
A kayak crossing of the treacherous Bass Strait, between mainland Australia and Tasmania
The first kayak circumnavigation of wales ( by sea, river and canal) with Fiona Whitehead
A 2400km circumnavigation of the South island of New Zealand taking 67 days, with Barry Shaw
A 500 mile circumnavigation of Sardinia with Barry Shaw
3 crossings of the Irish Sea of between 45-57 nautical miles – from Anglesey to the Isle of Man, from the Llyn Peninsula to Wicklow in Ireland and from Holyhead to Dublin. All the crossings were done in strong following ( or side) winds. The Llyn- Wicklow Crossing was on New Years Day, one of the shortest ( and coldest) days of the year.
A crossing from mainland Scotland to Shetland, via the Orkney islands and Fair Isle
Kayaking 120 miles from London to France in 50 hours & kayaking from Russia to Japan in a series of open water crossings – both with Sarah Outen.
With Barry Shaw, becoming the first people to kayak 1000 miles around 'Isla Grande', Tierra Del Fuego – a remote windswept Patagonian island.
Kayaking from England to France, & from Russia to Japan with Sarah Outen. See the film on 'This is the Sea 5′
Circumnavigation of Ireland in 2013 with Barry Shaw & Roger Chandler
Kayaking 2500 km along the Aleutian island chain and Alaskan peninsula with Sarah Outen in 2014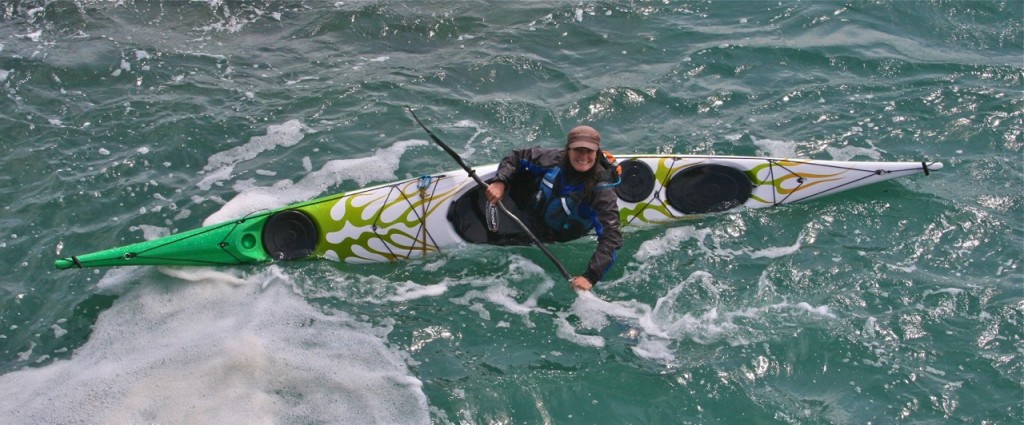 The Location of Justine's Presentation is at Peninsula College's Maier Performance Hall, Saturday April 23rd at 7:00 PM
Click Here To Get Your Tickets- only $10.
Peninsula College's address is: 1502 East Lauridsen Blvd. Port Angeles, WA 98362
Directions from Hollywood Beach and the Red Lion Hotel- South on Lincoln Street, turn left onto Lauridsen Blvd., follow to Peninsula College.